THE BAND

Hillary Leicher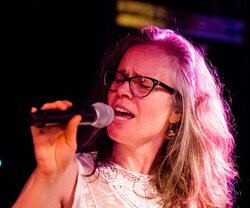 Hillary Leicher (Vocals) will keep you entertained with her incredible range and absolutely mesmerizing tone as she delivers your favorite hits. Hillary will keep you on your feet with her infectious energy as she nails the R&B with soul and belts out the funk like no other. Moving from L.A. to raise a family here in Vermont, Hillary spent time with the Party Crashers in our early years forming the band the Upper Valley has come to adore before settling into family life. Six years later Hill is anxious to get back to the stage and we are happy to have her. When not hanging with the Party Crashers, you can find Hillary playing in an acoustic duo with her husband Andy or singing back up vocals for Spencer Lewis,

---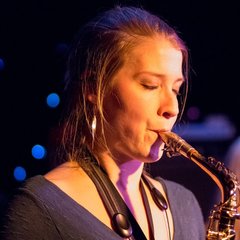 Katie Runde
Katie Runde (saxophone) has played nationally and internationally with groups inclding Soul Driven (jazz/funk/soul), Sangre Latino (Latin/salsa), and the University College Cork House Band (jazz). Katie has recorded with Brian Miller at Claycastle Studios (Youghal) and with Don Murphy at Satellite Studios (Cork). Played Guinness International Jazz Festival (Cork), Dublin Docklands Festival, Taste of Dublin, Waterford Spraoi, and the Dun Laoghaire Festival of World Cultures. Katie plays saxophone, clarinet, flute, and bass clarinet for several area bands, including the Party Crashers, Van Burens (based in Boston, MA), Still More Cats (based in Sharon, VT), the South Royalton Town Band, Grace Congregational Church (orchestra for Leonard Bernstein's Mass at the Paramount Theater in Rutland, VT), The Sharon Academy (pit orchestras), and the Temptations (Colonial Theater in Keene, NH and Lebanon Opera House in Lebanon, NH). Katie also teaches private saxophone lessons in VT and NH.

---
Ted Mortimer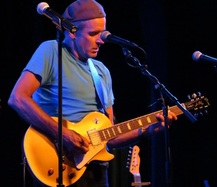 Ted Mortimer (Vocals, guitar), spent 10 years performing and recording in Los Angeles before moving to the Upper Valley in 1987. He has performed in jazz and blues clubs in New York City with Sandra Wright, including the Five Spot and Manny's Car Wash. Ted's guitar playing is featured on Linda Boudreault's jazz CD
Alone With You
as well as many other local and regional releases. Ted was the founder of the legendary band Dr. Burma bringing classic R&B music to the Upper Valley for 25 years. When not performing with the Party Crashers you can find Ted playing solo or with various jazz duos and trios throughout Vermont.
---
Kristin Partch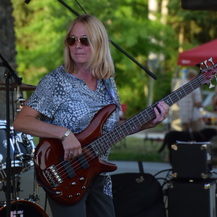 Kristin Partch (Bass) was born into a jazz crazed musical family. Jazz parties and music lessons have been a part of her life as far back as she can remember. Influenced by her father, the late great jazz bassist Ronnie Partch, Kristin has been playing bass since the young age of 13 and was playing the New York club scene by age 18. Kristin's love of jazz finds her dabbling in various jazz projects on her upright bass which she also brings to Party Crasher events when cocktail hour or dinner music is requested. Her creative and solid bass playing will surely bring you to the dance floor. Kristin is the glue of the band and consistently brings the Party Crashers into new territory.

---
Tom Jellison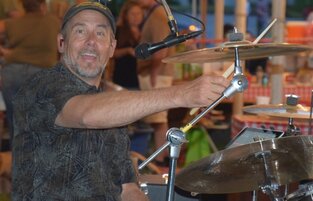 Tom Jellison (Vocals, Drums) hs been with the Party Crashers since 2006, anchoring all of those irresistible grooves with soul and finesse. Coming from an extensive musical background that includes formal training in piano, guitar and music theory, his first love has always been drums...."because that's why people dance!" Tom has been gigging throughout the North East for over 30 years and has worked with such notable regional bands as Palantir, Gemini Sanction, Alternating Currents, The Wyrx and One Eye Open.



---
The Party Crasher's minimal requirements - for those of you who want to have us play your special event.


Power: Minimum of three each dedicated 20 amp clean 120v circuits with common ground. GFCI protected if outdoors. Outlets to be within 50 ft of the stage. Portable generators are not acceptable. Stage: 20' wide x 16' deep is preferred, but must be a minimum 16' wide x 10' deep: stable, flat and level. For outdoor shows, provide adequate cover from the elements with secured side panels. Radiant heaters must be supplied if the temperature is expected to drop below 60 degrees.

Lighting: We will provide theatrical lighting for the show. Client will provide ambient lighting for the stage and event areas for general use, from set up and thru breakdown.

Facilities: Clean restrooms and a changing area/staging are required. A more formal 'green room' is preferred, but not always possible or necessary.

Food and Drink: Amenities provided to the guests will be made available to the band.

General Life Safety: To be provided by client or venue as per prevailing Life Safety Code, and as appropriate for the venue to ensure the security of all patrons and staff. Specifically, these items include (but are not limited to): Security, Staffing, Training, Parking, Sanitation, Rest rooms, Traffic control, Fire egress, and Site lighting considerations.

Client agrees to indemnify The Party Crashers for any liability arising out of, or related to, the performance of their obligations under this contract, other than breach by The Party Crashers to perform substantially as contracted.


Party Crasher Technical Information:

Mixers: Presonus StudioLive RM-32 Active Integration Digital Mixer

UC Surface wireless control via Lenovo Horizon IPS 20" Touchscreen

Soundcraft GB16-2R 28 bus analogue backup

FOH Processing: DBX Drive Rack PA-2

Klark Teknik DN 410, DN 500

Lexicon PCM-90

FOH Speakers: FBT ProMaxx 14 over QSC K-subs

Large Event FOH: JBL SRX4733 over JBL SRX4719 subs

QSC PLX II series power amps, 10,000 watts

Wedge Monitor Processing: DBX AFS-2

Wedge Monitors: QSC HPR 122i

In-Ear Wireless Monitors: Shure PSM 600 series

Lighting: Blizzard HotBox RGBAW/EXA

Blizzard Solar System EFX

MBT scx-101 DMX Controller

Sound and Lighting for The Partycrashers provided by TMJ Sonix